5 Winter HVAC Tips
By:
Brian Schutt | December 13, 2021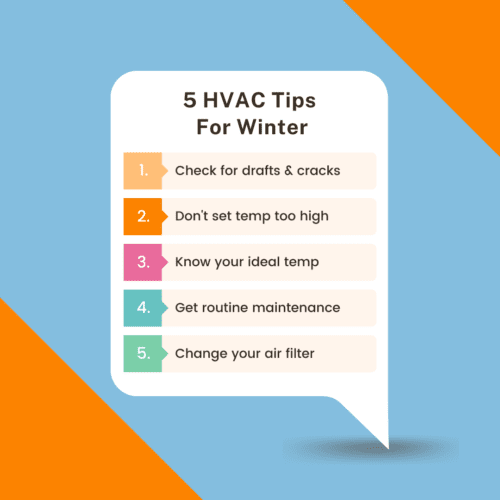 Winter is here and it's time to begin considering how to best manage your heating system. By understanding your furnace and following through on a few things you can do as a homeowner, you can ensure a safe and worry-free winter. For more helpful content, follow us on Instagram for our weekly #tuesdaytip and monthly #memereminder and our YouTube channel for quick videos. Here's our top 5 winter HVAC tips:
1. Check for drafts, cracks, & insulation
There are a lot of ways that warm air can escape from your house in the winter. If this happens, your system will work harder to keep your home heated, resulting in less efficiency and potential problems. Check your home for drafts, cracks, and areas that need more insulation. Anything you can do to resolve these issues and better insulate your house will pay off in heating efficiency.
2. Don't set your temperature too high
It's important to understand the time it takes to heat your home. For example, if the temperature is currently 67 and you want it to be 72, setting your thermostat to 75 won't heat your home faster than if you set it to 72. What that will do is put more pressure on your system, possibly resulting in furnace problems. Set your thermostat to the temperature you'd like and find other means to warm up while you wait on it to get there.
3. Find your ideal temperature setting
Speaking of setting your thermostat,  having a smart thermostat can bring you substantial energy savings over the winter. To get the most savings, Energy Saver recommends setting your thermostat at 68 degrees while you are at home during the day. While you're away or sleeping, they recommend bumping it down closer to 60. That might be a bit cold for some of you, but every degree you can comfortably move your thermostat down, the more you'll save on your utility bill.
4. Have routine maintenance done
This tip is on of the most important: be sure to get maintenance done on your furnace! Just like changing the oil in your car, your HVAC system needs routine maintenance to work most effectively. Many warranties require routine maintenance to stay valid and keeping your system tip-top will avoid costly future repairs. Our Maintenance Memberships is $99 per year and includes both a furnace and AC tune-up, along with discounts on other products and services.
5. Change your air filter regularly
The last and probably most important tip is one we say all the time: change your air filter regularly. It's the best thing you can do for your system and will help prevent costly repairs. When your air filter gets dirty and clogged, it causes the blower motor (located right next to the air filter) to work harder. The harder the motor has to work, especially for long periods of time, the more likely it is to break down. Put a monthly reminder in your phone or follow us on Instagram for our monthly air filter reminder and you'll be all set!
If you follow these few winter HVAC tips, you'll be on a good path toward a worry-free winter and a working furnace. And if you do unfortunately run into problems, give us a call at 317-203-8149 or set up an appointment online. We'll be happy to help!