How We Work to Build Your Trust in our HVAC Technicians
By:
Brian Schutt | July 20, 2015
Trusting HVAC Technician is Paramount to Homeowners in Indianapolis
I stopped by a service call earlier today.
A client had just returned from vacation to a lukewarm home, and knew he needed to call an air conditioner technician.
While he regularly uses Angie's List to shop service providers, this time he chose Homesense after a friend's recommendation. He, like most homeowners, just wanted to find someone he could trust to examine his air conditioner.
The Moment of Truth for Homeowners
Before our technician even arrived for the appointment, this client was expecting the worst. Another HVAC company had previously told him that he needed to replace his whole air conditioning system, and so it didn't completely surprise him when the Homesense technician told him that his capacitor had failed.
Understandably, it did prove to increase his anxiety levels.
And we get this. It's at these moments in service appointments where most homeowners don't possess the technical know-how to determine the accuracy and trustworthiness of a technician's prognosis. It can be nerve racking. And so at Homesense—as we did at this appointment—our technicians always take time to clearly explain the things we're finding and the next steps in the diagnostic check.
Multiple Tests Help Create a Trusted Diagnosis
Next in this appointment, our Homesense technician examined the compressor. He first ran three tests on the compressor—none of which showed any signs of life—but didn't stop there. Since the system had been out for at least 10 days, our technician wanted to get power to the compressor before pronouncing it DOA.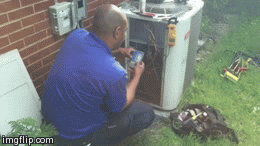 He ended up replacing the failed capacitor, which finally brought life back to the air conditioning system.
Following a comprehensive test of the remainder of the air conditioner, our client walked away with a total bill under $400, including ongoing preventative maintenance.
The Heart of Homesense
While we can't guarantee that your experience with Homesense will be the same—an affordable repair when expecting an expensive replacement—we can guarantee a thorough process and clear communication.
We've memorialized our values in writing with The Heart of Homesense.